60 years of experience in the production of recycled materials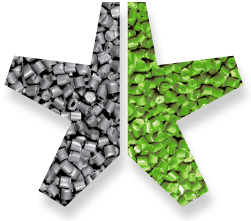 almaak international is an owner-managed company with many years of experience in the production, processing and development of engineering plastic compounds.
In the plants in Krefeld and Doberlug-Kirchhain, around 60,000 tons per year of engineering thermoplastics (PA, PC, PBT, ABS, PC/PBT, PC/ABS, PBT/ASA, PP etc.) can be produced on 18 production lines with a flexible hourly output of 25 kg to 1,500 kg. These products are mainly used in the automotive industry, in the electrical and household goods sector and in the construction industry.
almaak has many years of experience in dealing with secondary raw materials and is one of the leading suppliers of sustainable product solutions in Europe. In addition to top-quality products – ranging from medical applications to highly technical innovations of virgin material – the company has for years focused on the development of compounds from sustainable raw materials, for which there is extensive series production experience in almost all relevant applications.