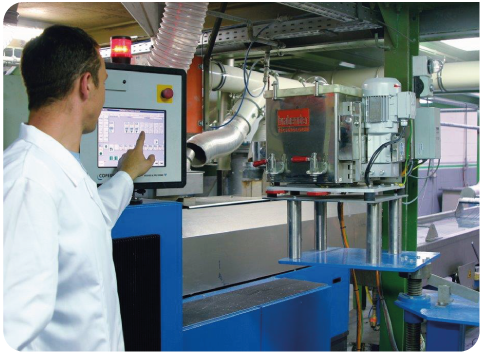 In its plants, almaak international has modern production machinery at its disposal on which all formulations can be manufactured flexibly, gently and efficiently.
14 twin screw extruders with a capacity of 50kg/h-1,500kg/h
2 fiber recycling lines with a capacity of 250kg/h-800kg/h
2 large mixers
2 lump mills and one fine mill
9 spinning machines
Capacity: 60.000t/year
All machines are equipped with the highest level of wear protection
Flexible packaging options according to customer requirements
We are not only offering short and flexible delivery times, but also the highest quality standard on the consistency of the products.
almaak international develops and produces both customer-specific small quantities and cost-effective large quantities and is thus just as much a partner to medium-sized and smaller companies as it is to large plastics processing companies.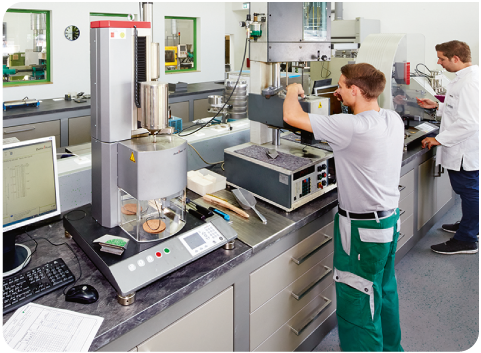 All necessary tests according to DIN/ISO can be carried out in the almaak international laboratories:
Rheological properties e.g. MVR/MFI, density, filler content, viscosity number
Mechanical properties e.g. tensile modulus/bending modulus, Charpy impact/notched impact strength, yield stress and breaking stress
Thermal properties e.g. Vicat, glow wire strength, flammability according to UL 94®, dimensional stability temperature
Electrical properties e.g. surface resistivity or volume resistivity
Optical properties e.g. light transmission, refractive index, spectral characteristics
Differential Scanning Calorimetry (DSC – Analysis)
Infrared spectroscopy
X-ray fluorescence analysis (XRF)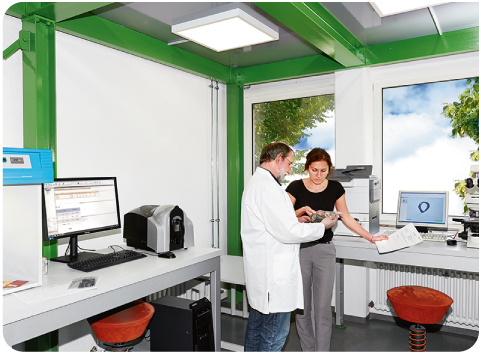 The long-time trained and experienced employees of the colour department of almaak international are able to fulfil almost all colour wishes of the customers.
Here, the correct colour shade – both according to customer samples, such as granulate samples, sheets or components, as well as according to recognised colour charts – can be determined and readjusted quickly and reliably.
Cie-Lab transmission measurements, yellow value determinations according to DIN 6167
Colourimetric production control of each batch
Consideration of standards (e.g. DBL,VW TL)
Colour settings according to RAL cards, automotive colour templates, Pantone, customised templates
NCS Index